Outlet panels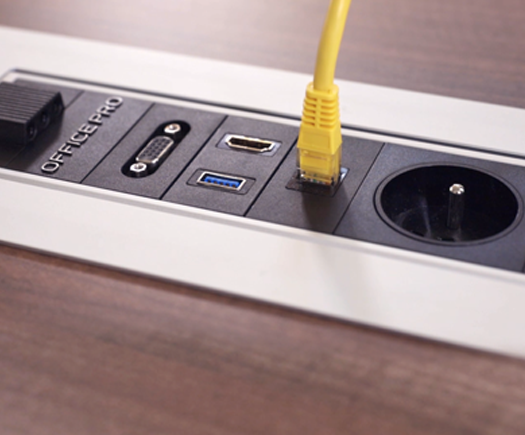 They are an elegant solution of how to get electrical or data connection points directly on your desk.
Each panel is equipped by default with one or more electrical outlets, depending on its version.
USB or wireless phone charging are very practical modules.
In meeting rooms, it makes sense to use LAN data network connection or a connection to the presentation monitor using a HDMI connector.
If you don't like any of our standard panels, you can design your panel within the range of configurable panels yourself, exactly according to your needs.
All outlet panels are certified for the European Union.
Fixed outlet connection panels
Due to their configuration, they are intended mostly for you work desk.
Most models can be installed immediately, without the need to cut a hole. Just attach it to the worktop edge or use the hole for cable grommet.
Only the installation of PTCZ models requires cutting a hole at your designated place.
Apart from an electrical outlet, you also have charging or data USB directly on your desk, as well as wireless phone charging for more demanding users.
Thanks to its compact size, the panel takes up almost no space on your desk.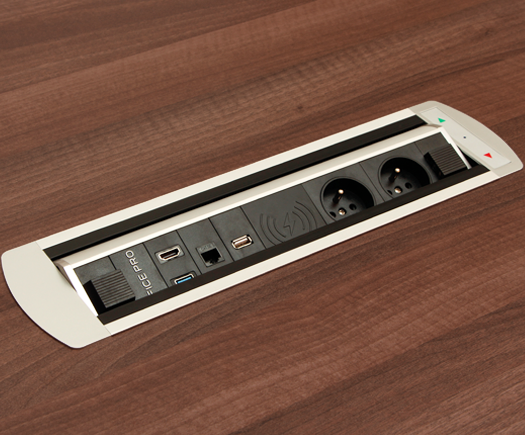 Electrical rotating connection panels
Very elegant, effective solution for meeting rooms or your personal workplace.
The installation of all panels requires cutting a hole at your designated place.
After pressing the button, the panel, driven by an electric motor, turns into a position where it is ready for use.
If any of the outlets is in use, a photocell detects a connected cable and prevents the panel from closing.
When you don't use the panel, you can press the button to close it and you have a clean desk.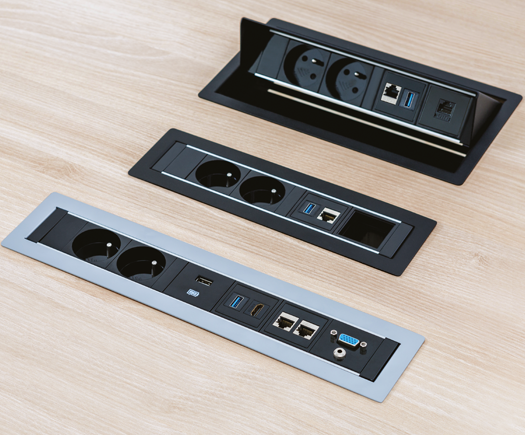 Configurable connection panels
Design your own outlet panel according to your needs.
Depending on the number of outlets, you can choose the size for 4 or 6 modules.
In both versions, the electrical outlets are firmly built in; you can configure other connectors as you need.
Pair or single connectors can be inserted into the free modules. These connectors do not have connecting cables.
The installation of all configurable panels requires cutting a hole at your designated place.