BTCZ 004
BTCZ 004
Electrical rotary panel, 3x el. plug, 1xdata,VGA,audio,microph.
---
Price: 4 545,- CZK without VAT5 499,45 CZK incl. VATon request
A recycling fee of /pcs without VAT will be added to the price
---
electric, data and AV connection points
rotating by means of an electric motor with magnetic coupling
photocell prevents closing when in use
2-year warranty
---
Technical parameters BTCZ 004
| | |
| --- | --- |
| Weight: | 3.00 kg |
| Width: | 40.3 cm |
| Height: | 11 cm |
| Depth: | 10.3 cm |
| Package dimensions: | 45x20x15 cm |
| Weight including packaging: | 3.3 kg |
Photo gallery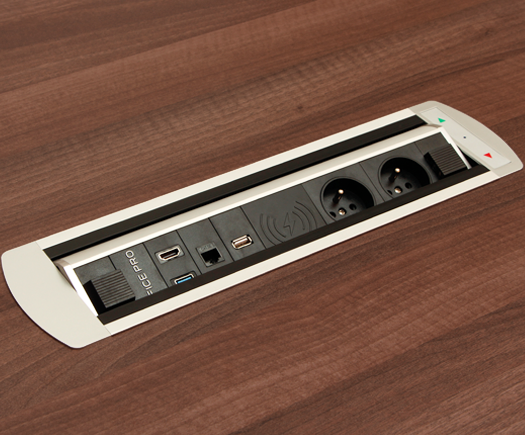 Very elegant, effective solution for meeting rooms or your personal workplace.
The installation of all panels requires cutting a hole at your designated place.
After pressing the button, the panel, driven by an electric motor, turns into a position where it is ready for use.
If any of the outlets is in use, a photocell detects a connected cable and prevents the panel from closing.
When you don't use the panel, you can press the button to close it and you have a clean desk.